SEC members
SEC is represented by different members: the SEC board and the consultants. Together, they form the team to conduct research in any chosen country of the company's liking.
The board consists of 4 members who manage the project from September onward. During the first few months they are responsible for the acquisition, which projects will they undertake this year? From January on, the consultant recruitment starts. The SEC board conducts all interviews and chooses the most suitable candidates. The last few months they are responsible for supervising the projects and consultants. Throughout the year they also have their own role and responsibilities to fulfill. Overall, the SEC board guarantees the continuity of the project for 1 year.
The consultants are chosen by the board in February. Before they start the research they receive several trainings. The trainings are followed by 6 weeks of desk research and 3 weeks of field research. The consultants are split up into smaller teams, every team works on 1 project.
The consultants and SEC board are supported by professional consultants.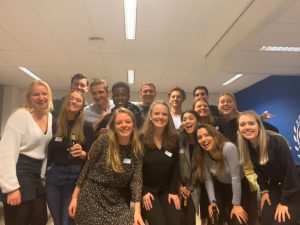 Consultants and their supervisors (2019-2020)